— kartjunction (@kartjunction) April 14, 2018
Estimates of deaths in the Syrian Civil War, per opposition activist groups, vary between 353,593 and 498,593.[1] On 23 April 2016, the United Nations and Arab League Envoy to Syria put out an estimate of 400,000 that had died in the war.[2]
UNICEF reported that over 500 children had been killed by early February 2012.[3][4] Another 400 children were reportedly arrested and tortured in Syrian prisons.[5][6] Both claims were contested by the Syrian government.[7] The United Nations stated that by the end of April 2014, 8,803 children had been killed,[8] while the Oxford Research Group said that a total of 11,420 children died in the conflict by late November 2013.[9] By mid-March 2018, the opposition activist group Syrian Observatory for Human Rights (SOHR) reported the number of children killed in the conflict had risen to 19,811, while at the same time 12,513 women were also killed.[1]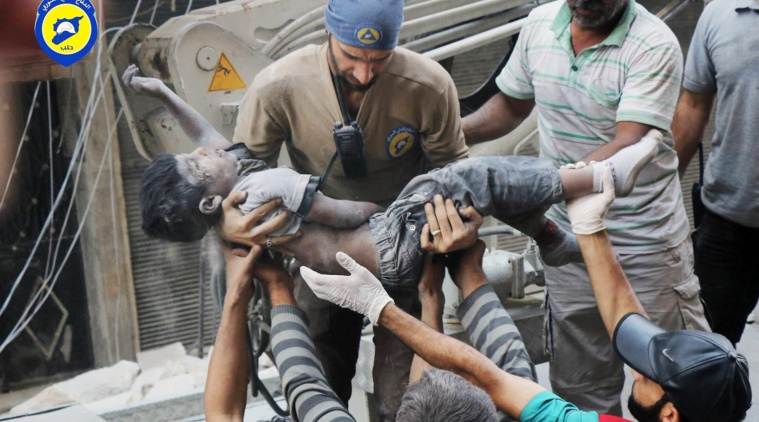 Additionally, over 600 detainees and political prisoners died under torture by the start of 2012.[10] By February 2017, Amnesty International estimated between 5,000 and 13,000 people had been executed in government prisons.[11]
The US has bombed Syria to punish it for a chemical attack
The United States, along with with Britain and France, just bombed Syria. It's the second time the US has waded into the country's seven-year conflict in response to a chemical weapons attack.
#Let's together for world Peace don't think about religion these all creations of human brain. pic.twitter.com/TgVFghUd6v

— kartjunction (@kartjunction) April 14, 2018